Boundless Opportunity
In line with our fast paced and rapidly changing global environment, Avila College is committed to the continual evolution of our physical and virtual campus spaces to reflect best practice, modern pedagogy and student experience. Our campus is continually renewed and refreshed to support the learning and teaching programs of today and prepare our students for the next step in their educational and vocational journey tomorrow.
Student voice plays an integral part of Avila College's building program with our Learning Captains and student committees providing input into the design and configuration of spaces and selection of interior features. Student research and feedback on 'what makes a great learning environment" is also factored in to the physical elements and practical considerations like colour palette and furniture selection for new builds so that it reflects a student-centric approach.
Phase one of Avila College's Master Building Plan is currently underway and will see the development of new state-of-the-art facilities on the College campus.
Ballygriffin, the new senior learning precinct, named in honour of Nano Nagle's birthplace, is a two storey complex featuring flexible and interactive contemporary spaces for learning and teaching.
Equipped with the technology for 21st century learning, Ballygriffin has been purposefully designed to cultivate community connections, incorporating numerous common areas and multi purpose zones where students can collaborate and interact.
With an emphasis on sustainability and innovation, the building is environmentally sensitive in design, maximises natural light and connects seamlessly with Avila College's green site.

Thank you to the Victorian School Building Authority and the State Member for Mount Waverley, Mr Matt Fregon for your support in making the Ballygriffin vision a reality.
The New Ballygriffin Space
Take a sneak peak out the new Ballygriffin Space. Building works commenced in 2021 and the work will be scheduled in a manner designed to minimise disruption to daily school life.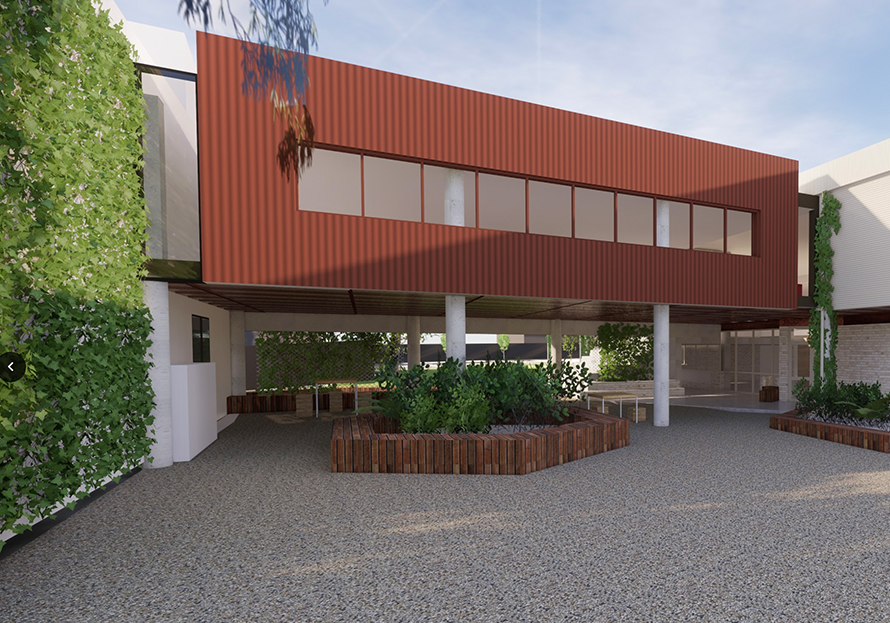 These initial artist impressions provide a glimpse into how the spaces may be configured.
Please note these are concept sketches only.
Collaboration and Community
The new facility will feature flexible spaces and zones to create a dynamic and adaptive environment that promotes collaborative learning, encourages community connections and supports independent study and research. This agile design approach is reflective of contemporary tertiary learning environments and modern workplaces, equipping students with practical skills and experience for their future.
Sustainable Design
Just as Nano Nagle, fondly known as The Lady of the Lantern, shined a light for education, the Ballygriffin facility has been carefully designed to maximise natural light, showcasing the natural environment and connecting seamlessly with Avila's existing green landscape. Sustainable and healthy design features aim to reduce energy consumption and encourage eco-friendly behaviours at school.
Technology Rich
A future oriented learning space, the Ballygriffin facility will be an integrated environment, equipped with digital technology, audio visual equipment and ICT devices to support innovative learning and teaching.