The Avila College Uniform
Designed to be practical, flexible and comfortable for learning, students can choose to wear either the summer or winter uniform throughout the school year depending on the weather and their daily timetable.
Items within the Avila College uniform capsule collection can be mixed and matched to suit and students can choose from a range of options. The PE uniform can be worn to, from and at school when students have a timetabled PE class on that day.
Watch the Uniform Video
Mandatory base items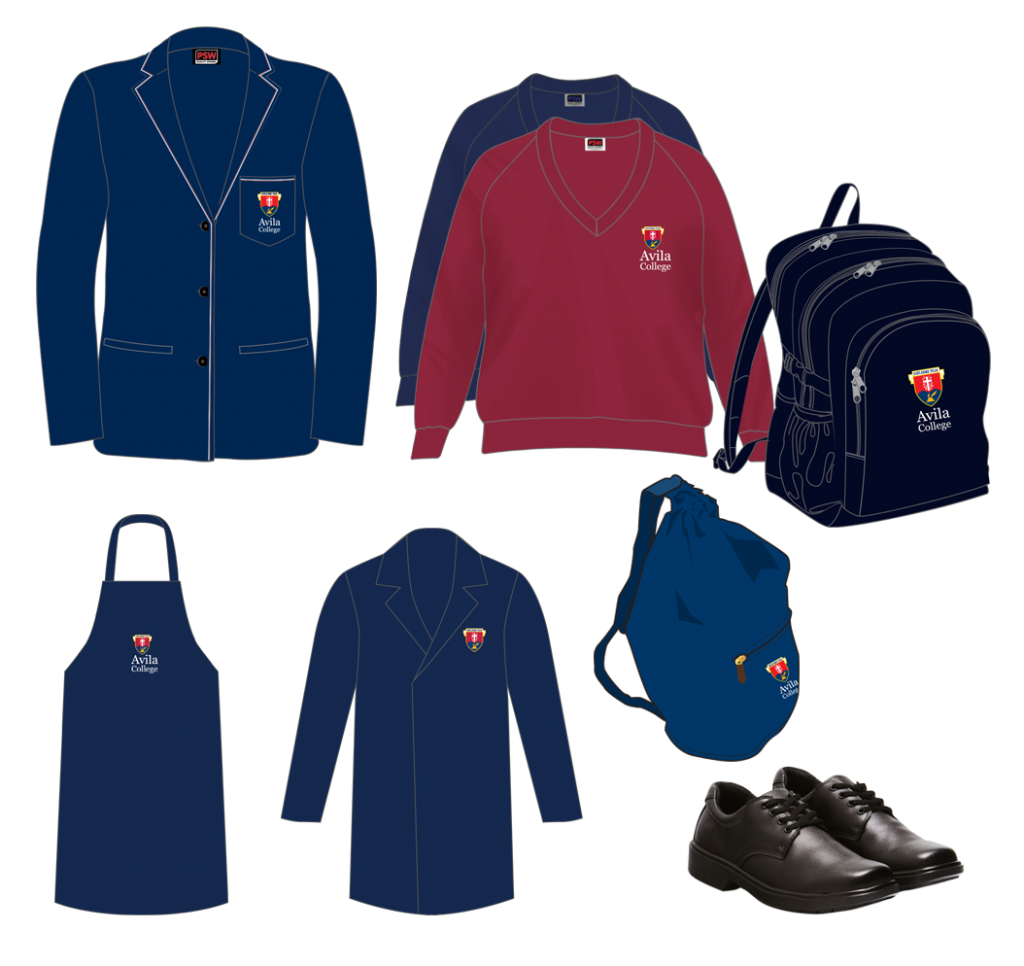 Avila Crest Navy Blazer  |  Avila Maroon Jumper (Navy Jumper for Yr 11+12 )  |  Avila Crest Schoolbag  | Avila College Apron | Avila College Lab Coat | Avila College Sport/Excursion Bag | Black lace up shoes (T-Bar sandals not permitted)
---
The Capsule Collection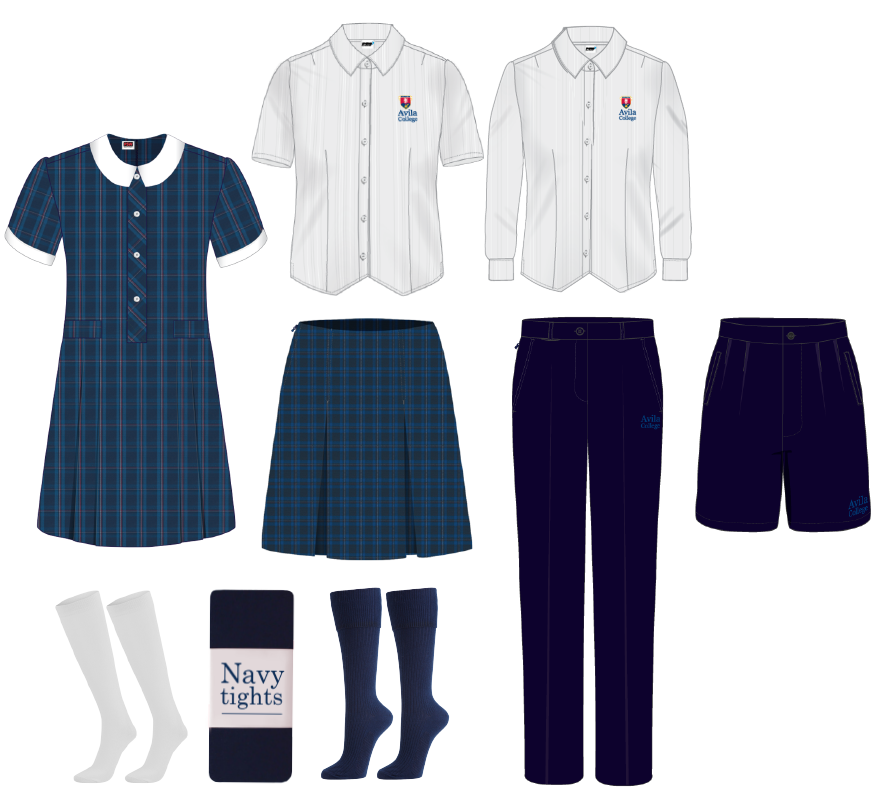 ---
Sports Uniform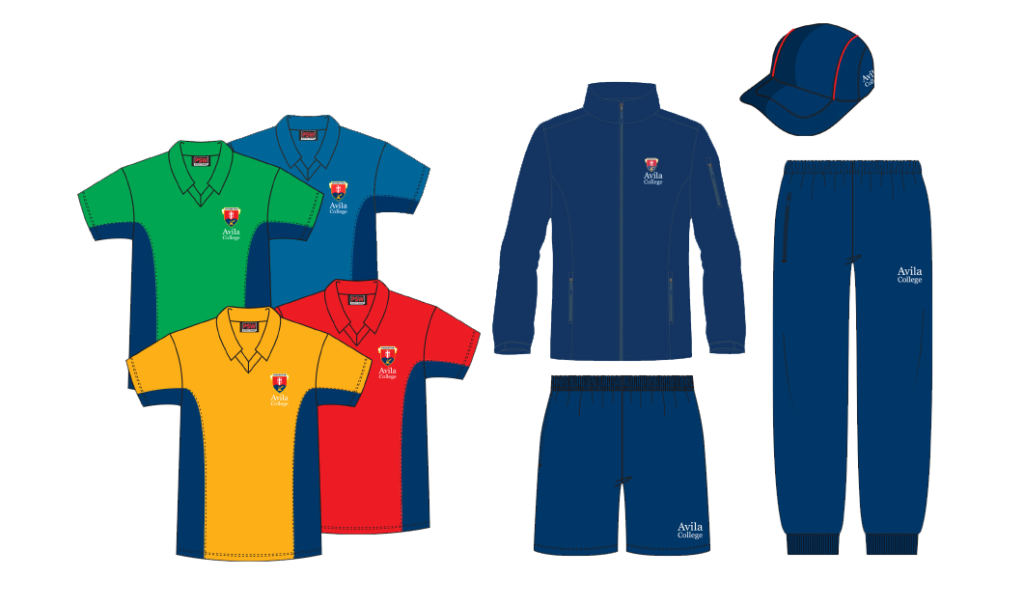 Accessories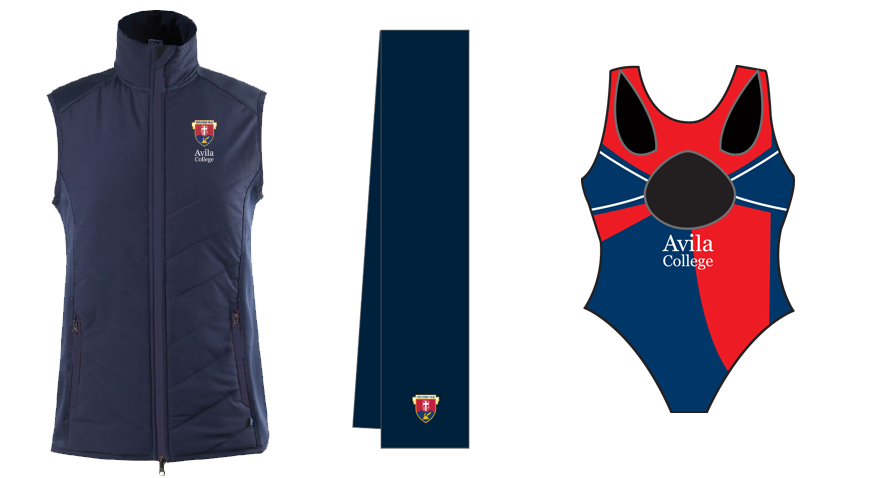 Students do not need to purchase Avila bathers unless they are part of the Avila College Swimming/Diving Squad.
Purchasing the Avila College Uniform
The Avila College uniform can be purchased from:
PSW Mount Waverley
342-350 Springvale Road,
Glen Waverley
(03) 9768 0335
www.psw.com.au/parents
Second-Hand Uniforms
The Second Hand Uniform Shop is located at Avila College. Open dates and times are listed on the Avila calendar.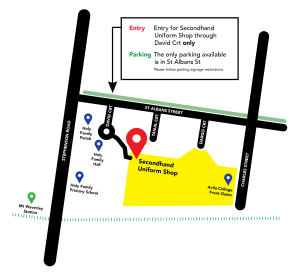 2023 Upcoming Opening Dates and Times
Tuesday 28 Nov 2023 – 2:00-4:30pm

Wednesday 29 Nov 2023 – 8:15-9:30am

Thursday 7 Dec 2023 – 8:00-10:30am

Friday 8 Dec 2023 – 1:00-4:30pm

Monday 11 Dec 2023 – 1:00-4:30pm

Tuesday 23 January 2024, 1.30 – 4.30pm

Wednesday 24 January 2024, 8 – 11am

Monday 29 January 2024, 1.00 – 4.30pm

Tuesday 6 February 2024, 2 – 4.30pm

Wednesday 7 February 2024, 8.15 – 9.30am

Tuesday 20 February 2024, 1 – 2pm (students only) 2- 4.30pm (public)

Wednesday 21 February 2024, 8.15 – 9.30am

Tuesday 5 March 2024, 2 – 4.30pm

Wednesday 6 March 2024, 8.15 – 9.30am

Tuesday 19 March 2024, 1 – 4.30pm 1 – 2pm (students only) 2- 4.30pm (public)

Wednesday 20 March 2024, 8.15 – 9.30am
Please Note: Avila blazers with the old logo are no longer able to be sold on commission.
If you have uniform items that you would like the College to sell on your behalf, please download and fill in the form below – all the information and conditions about selling second hand uniform at Avila are detailed on the front page. If you have signed this authority and have your uniform pieces individually labelled, then together they can be dropped into the General Office at any time.  No uniform items can be accepted without this authority, which is also available at front desk.
Queries can be directed to uniform@avilacollege.vic.edu.au