What is VET?
Vocational Education Training is hands-on experienced training that gives students a nationally-recognised qualification.
Avila offers two on-campus training qualifications and we work with external operators to provide a myriad of other pathway qualifications that provide choice and freedom for students. The two on-campus VET options are Hospitality Certificate II and Sport and Recreation Certificate III. Read below to discover more details about on-campus and external VET options.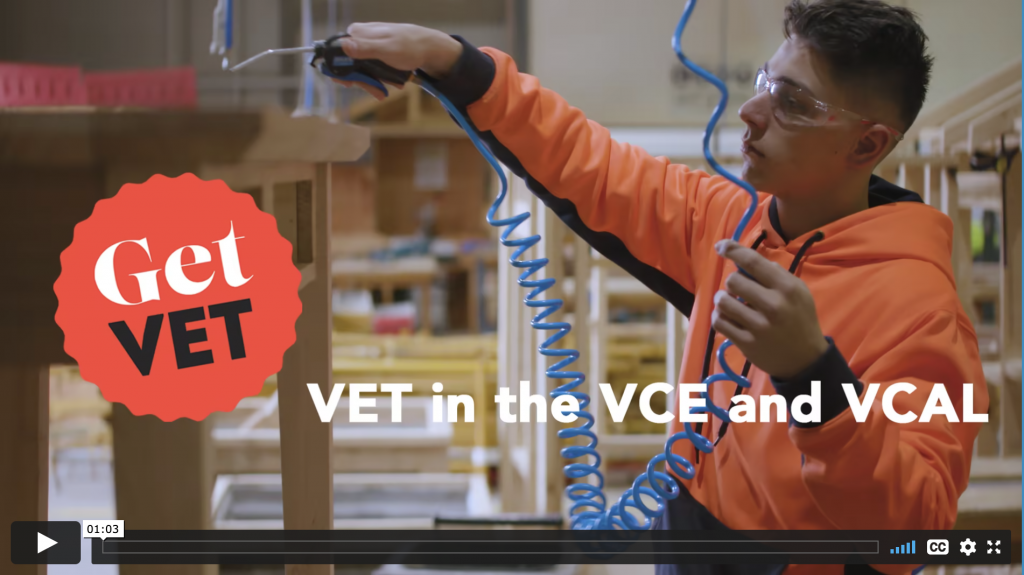 Hospitality
Certificate II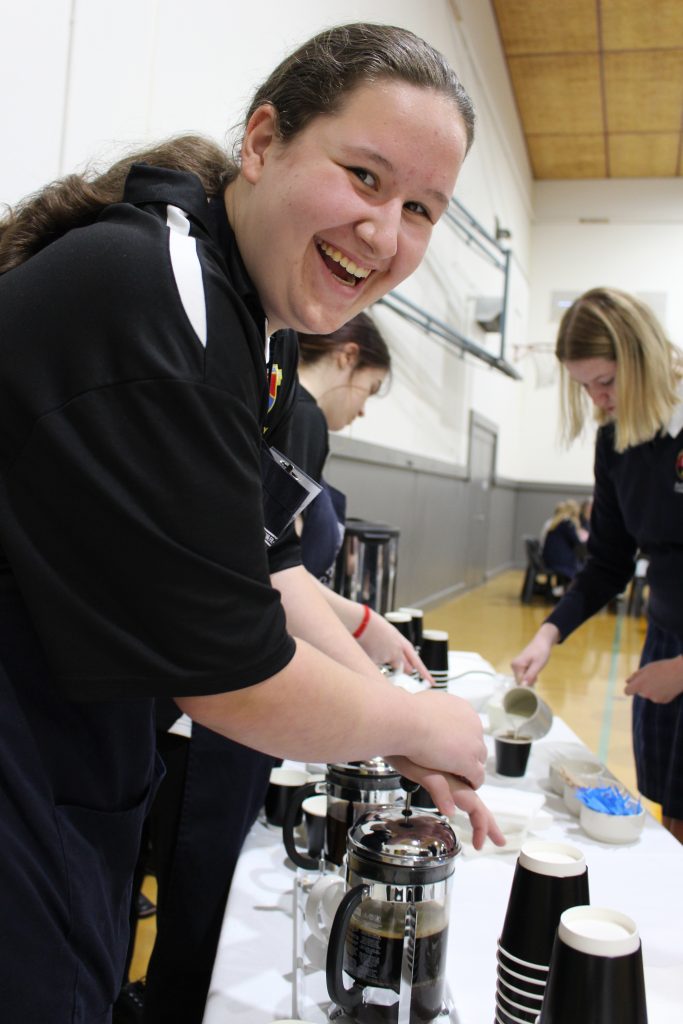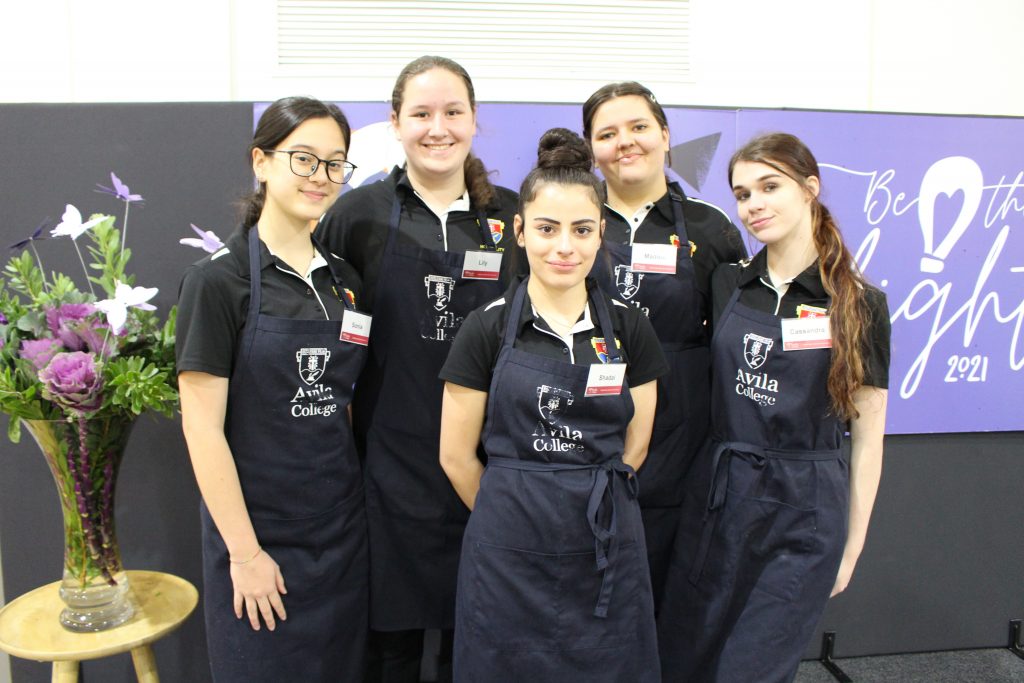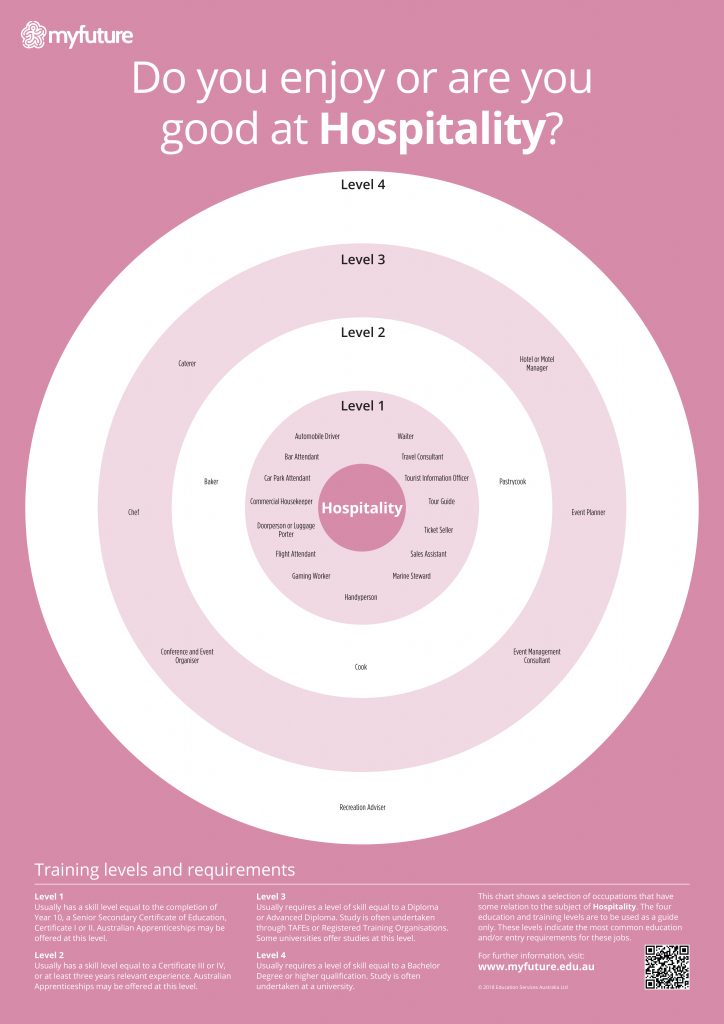 ---
Overview
One year course
Open to students in Years 10, 11 and 12
Contributes to credit at Year 11 level only
Run during the regular Avila College timetable
Must be studied in both semesters of the academic year
The cost is included in school fees
This is an unscored course and does not have an exam
Outcomes
A range of outcomes including
Work effectively with others
Source and use information on the hospitality industry
Use hospitality skills effectively
Interact with customers
Show social and cultural sensitivity
Use hygiene practices for food safety
Prepare and present simple dishes
Clean kitchen premises and equipment
Use food preparation equipment
Prepare and present sandwiches
Provide responsible service of alcohol
Prepare packaged foodstuffs
Students will be required to attend school events outside of scheduled class times.
Pathways
Click here to view where a Hospitality qualification can take you.
Click here to watch the VET Hospitality video.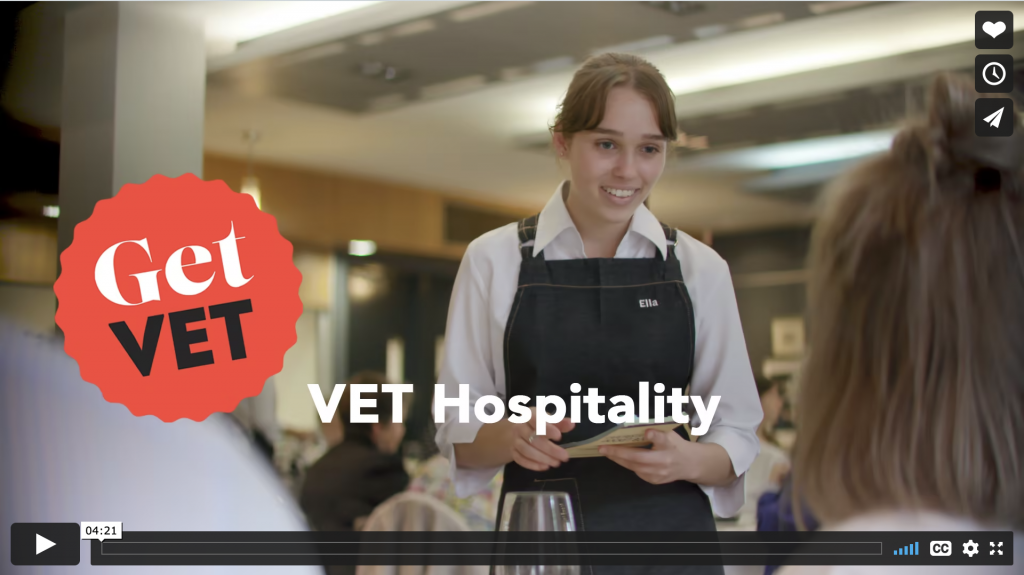 ---
Overview
Two year course
Open to students in Years 10, 11 and 12
Can be completed scored to contribute to an ATAR ranking or unscored
This study will take one choice each semester from a student's subject selection
Can be exited after the first year in most circumstances
Students will be expected to become involved in the schools's extra-curricular sporting activities
Assessment
A range of units of competency including:
Participate in WHS hazard identification, risk assessment and risk control
Organise personal work priorities and development
Provide first aid
Participate in workplace health and safety
Use social media tools for collaboration and engagement
Conduct non-instructional sport, fitness or recreation sessions
Plan and conduct programs
Provide quality service
Respond to emergency situations
Pathways
Click here to view where a Sports and Recreation qualification can take you.
This qualification reflects the multi-skilled role of individuals in operational and customer support positions in the sport or community recreation industry. These individuals are competent in a range of activities and functions requiring autonomous work within a defined range of situations and environments.
They work in locations such as fitness centres, sporting grounds or complexes, leisure and aquatic centres and community recreation centres.
Click here to watch the Get VET Sport & Recreation video.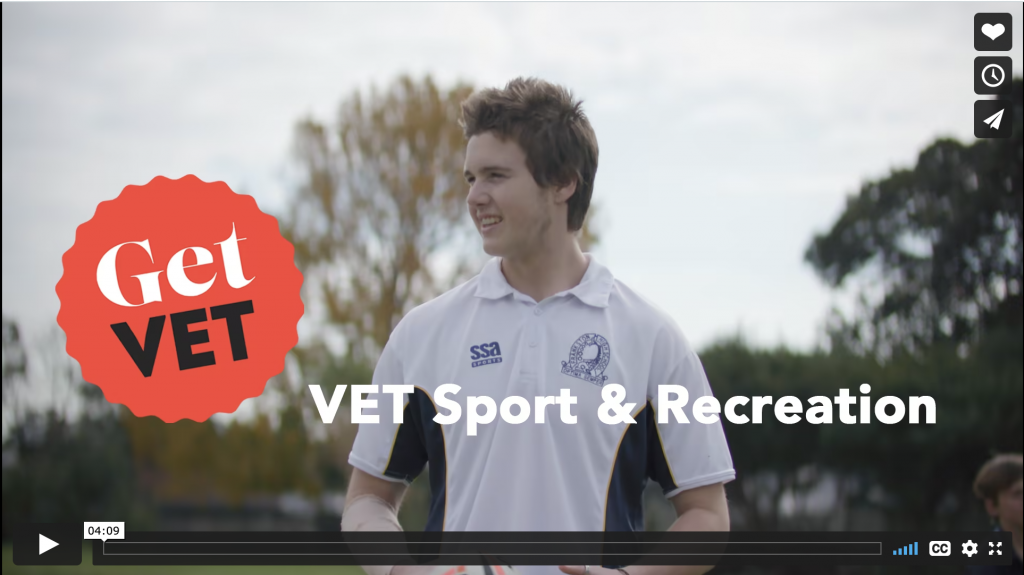 ---
Overview
Students can also choose to study a VET course not offered at Avila College from external providers.
These are usually run on a Wednesday afternoon.
The cost of these courses is in addition to the Avila College school fees.' Avila College will contribute 20% of the tuition costs and usually Catholic Education Melbourne (CEM) will also make a contribution.
Students are responsible for their own transport to and from the external venues.
Currently the most popular courses studied externally by Avila students are Certificate III Allied Health Assistance, Certificate III Beauty Services, Certificate III Animal Studies and Certificate III Early Childhood Education and Care.
Any VET designed for secondary school students may be chosen.
2022 Course Guides
External Providers
Popular external providers with Avila College are;
Pathways
More information videos about the range of VET course options are available on the GET VET website.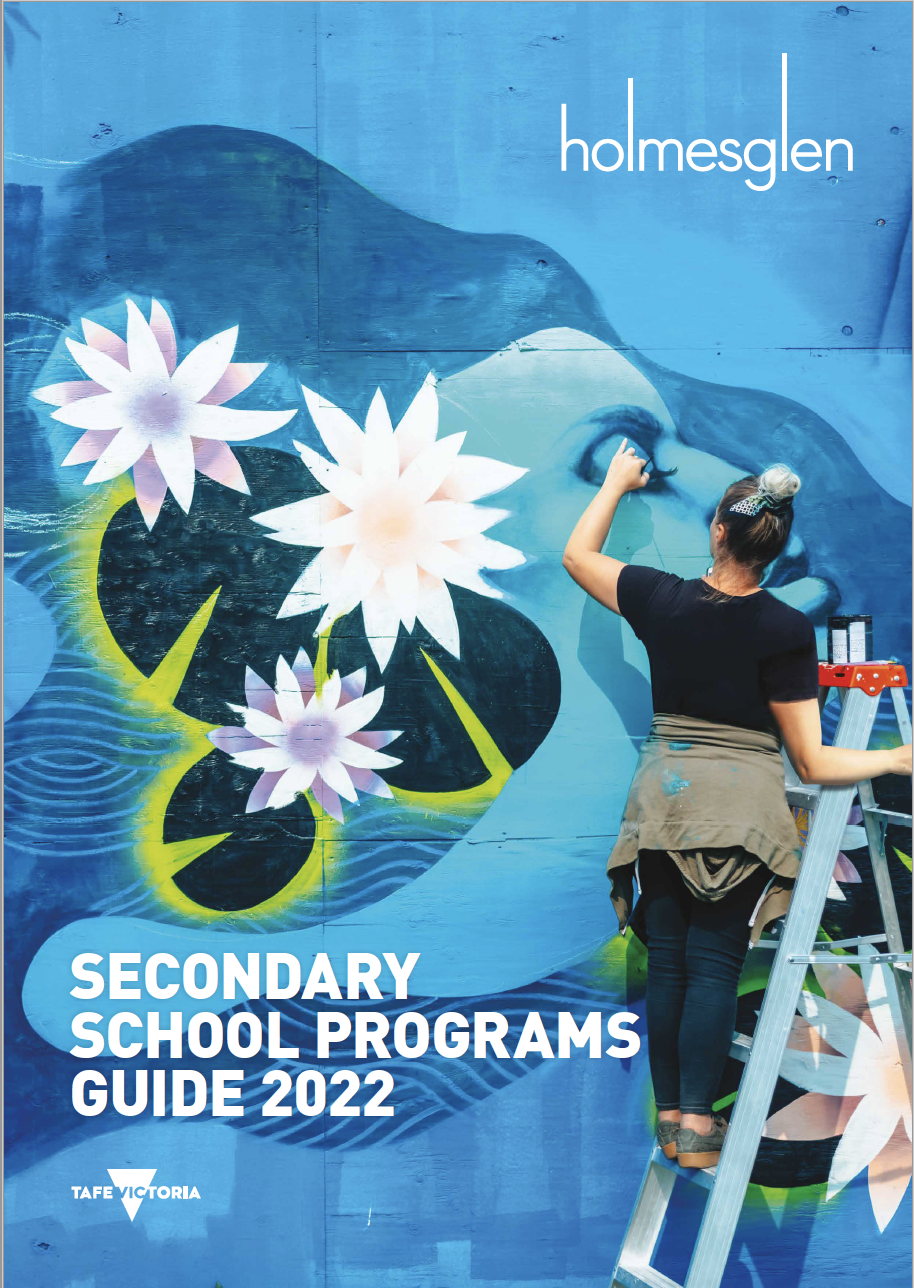 ---
What do VET programs offer?
A nationally recognised vocational certificate with credits built in just like other subjects
Counts towards the VCE and VCAL Certificates
Contributes to the ATAR or study score (if a scored VCE VET Program)
Training in a specific industry area
An opportunity to put knowledge and skills into practice in a simulated or actual workplace environment known as Structured Workplace Learning (SWL)
A qualification which will provide access to further training
Improved chances of getting work when finishing school
Offer a pathway into apprenticeships and traineeships
What are the opportunities with VET?
Vocational Education and Training in Schools (VET) programs are designed to expand opportunities and pathways for senior secondary students, and improve post compulsory educational outcomes as well as address the employment needs of industry in Victoria.
Hands on learning, courses that relate directly to your chosen pathway, applies skills directly related to your pathway, industry links, accredited courses recognised Australia wide, stepping stones for further education.
VET programs can contribute to both a VCE and a VCAL program.
Scored VET programs contribute to an atar RANKING.
Introduced in 1994, VET programs are comprised of nationally recognised VET certificates undertaken by senior secondary students as part of the VCE or VCAL.
Discover More on the VCAA website
How is VET different?
An extra qualification. You can gain a nationally recognised VET qualification while undertaking your VCE or VCAL. You received the VET qualification from a Registered Training Organisation such as a TAFE.

Connected to the Workplace. VET qualifications give you industry exposure and experience in the workplace that reinforces your skills development. This connection also makes for a smooth transition between training and work.

Practical. VET can strengthen your education by giving you the opportunity to gain practical skills and knowledge that complement your VCE studies. For example if you want to be an engineer and you are studying VCE Physics and VCE Mathematical Methods, you can develop practical skills, technical knowledge and industry insight by doing VCE VET Engineering.

Units of competency. Units of competency are the building blocks that make up a VET qualification. Each unit of competency includes specific skills and knowledge.
Competency based assessment. VET students are assessed as 'competent' or 'not yet competent' in each unit of competency. To be assessed as competent, you must show a consistent application of skills and knowledge to the standard required in the workplace. To make sure you are ready to begin your career or continue with further study, assessments take place in a real or simulated workplace environment.
Is being passionate about your work important to you?
VET can give you workplace skills and knowledge for a career you are passionate about. Every year more than 50,000 secondary students across Victoria explore their passion through VET.
Are job opportunities important to you?
VET can give you training that is directly connected to employment.
Is flexibility important to you?
VET offers you a flexible pathway to achieve your goals. If your goals change, your pathway can change too. The employability skills you develop with VET can give you extra flexibility to explore multiple opportunities and interests.