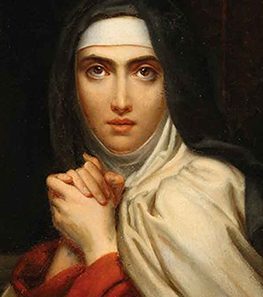 St Teresa of Avila
Our College namesake and an inspiring role model, St Teresa of Avila was a woman who achieved greatness at a time when women had few opportunities.
Her outstanding contribution to the theological understandings of the Church was recognised in 1970 when she was one of the first women to be recognised as a Doctor of the Church. Saint Teresa was an energetic, inquisitive child who was bright, attractive and fun. When Saint Teresa was 15 her mother died, leaving her devastated. Her strict father sent her to a convent, which she did not like initially. She thought long and hard trying to decide between religious life or marriage before choosing to become a Carmelite. In her adult life she suffered serious illness but this did not stop her from carrying out her life's ambition. This was to reform the Carmelite Order to refocus on its original aim to lead a simple life of poverty devoted to prayer. She carried this out brilliantly, but it involved suffering and physical hardships of many kinds for the rest of her life.
An accomplished writer, reformer and mystic, the most famous and most relevant of her teachings is that serenity and peace of mind come through acceptance of change, and belief and trust in God.
Saint Teresa's greatest joy was to be of service as a faithful daughter of the Church. It is from this belief that we take our School motto 'Ecclesiae Filia' which is Latin for 'Daughter of the Church'.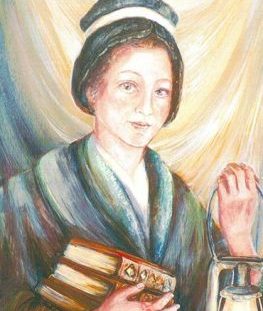 Nano Nagle
Founder of the Presentation Sisters
Considered to be a pioneer of Catholic education in Ireland, Nano Nagle firmly believed that an education in the Catholic faith, literacy and other practical skills would restore the dignity and independence of the Irish people living in poverty and therefore transform society. At the time, the repressive Penal Laws meant that education for Catholic children was not allowed in Ireland.
Defying the Penal Laws, Nano secretly set up a school in a mud cabin for 35 girls and her project evolved as she established more schools across the city of Cork. By the time of her death in 1784 she had set up a network of schools with over 400 pupils in seven parishes that became the basis of the Catholic school system in Ireland.
As Nano spent her days with the children, they would tell her of their sick friends or family members. Nano began to visit the sick and the elderly after school, bringing them food, medicine and comfort. She often made visits late into the night, moving through the dark and dangerous alleyways carrying her lamp and became affectionately known as the 'Lady of the Lantern'.
On Christmas Eve 1775, after much trial and searching, she established the Sisters of Charitable Instruction of the Sacred Heart, later to be known as Presentation Sisters, to continue 'the work of God' she had begun. On the 26 April 1784, Nano died of tuberculosis. Her message to the Sisters gathered around her as she lay dying was 'Love one another as you have hitherto done'.