September 5, 2013
Back
Melbourne Writers Festival
Recently members of the Avila Book Club, along with a few VCE students, ventured into the city to the Melbourne Writers Festival.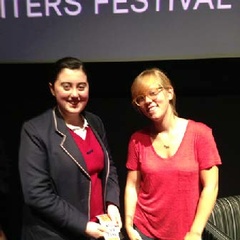 We were lucky enough to hear from a range of professional editors and authors, some of whom we knew well because we grew up reading and loving their books.
The first event we attended at ACMI was presented by food fanatic Lucy Knisley who talked about turning her life story of being in the kitchen into comics. We saw Lucy's amazing sketches of food and then learnt about an American cookie butter spread that Knisley swore is better than Nutella (we know it's a big call and if you are interested in finding out for yourself, it is called Speculoos spread).
The next presentation was on the topic of war in novels with Morris Gleitzman and Deborah Ellis. After the informative session we were fortunate to have the chance to meet the authors. It was a dream of Liv's since she was eleven years old to meet Morris Gleitzman and he even signed her favourite series. We then went to the Festival Book Store and dipped into our life savings to buy some amazing titles. The next session featured a panel of speakers and focused on great new titles to read. It helped us make a bucket list of new books, even though our bags were heavy with our recent purchases. We are now working on tracking these books down.
Being a book enthusiast is much like being in the Hunger Games; when a new book is released or raved about, we get to work sharpening our bookmarks and reserving copies at every nearby library.

We finished our day with a food pit stop and a session on book cover design. We all had a great day and look forward to next August when the Writers Festival comes back to town. We have already started saving to buy next year'snew books.
Katerina Karanikas and Olivia Staffieri (Year 11)