September 5, 2013
Back
Hunger Challenge
While we can be aware that there are over 2 billion people around the world living on less than $2 a day, this humanitarian issue can seem impossible to solve and easy to ignore. However, there are simple things people can do to help create change.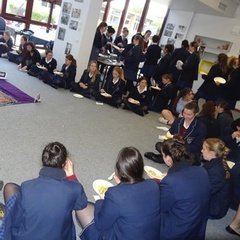 The $2 Challenge, promoted by the Mutunga Partnership, invites individuals or households to live on less than $2 a day, per person, for a week. The money saved is then donated to the organisation to fund microcredit loans which are given to people in poverty, providing hope and opportunity to become self-determining.
This term, over eighty girls across the school participated in Avila's own Hunger Challenge, a single lunch activity to help raise money for microcredit loans. We shared a meal of rice and dahl, costing less than $2 per person, with the awareness that all money raised, almost $600, would help those most in need. All year levels were invited and it was comforting to sit in a circle and have a hearty meal within a sense of community.
We thank the organising team which worked hard to plan and cook the dahl, Mrs Marino for her work behind the scenes and Donna Teekens for her support inplanning. More importantly, on behalf of those who will receive a low interest loan because of our event, we thank all girls who participated and decided to do it differently this lunchtime.
Genevieve Townsend
(Year 12)
Special mention to Going Green Solutions, who kindly donated biodegradable cutlery and plates for us to use on the day.