February 15, 2017
Back
High Achievers' Assembly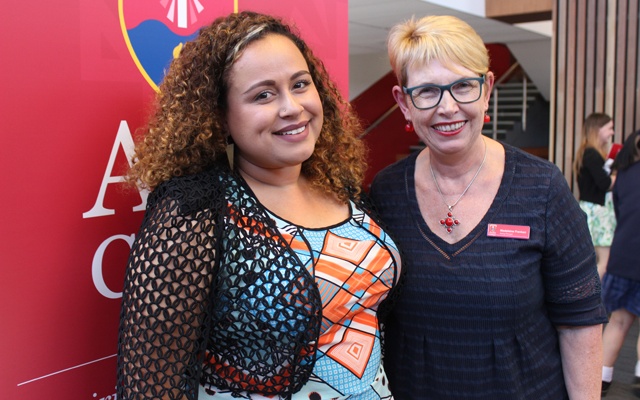 Avila College's High Achievers' Assembly welcomed back and congratulated students from the class of 2016 who attained excellent results last year. The top students in each subject and those who scored ATARs above 90 were presented with certificates acknowledging their success.
College Dux (ATAR 99.7) Katerina Sova addressed all students about the challenges and value of balancing family, social and study time throughout year 12.
Former student (Class 2005), Amelia Tauoqooqo reflected on how the wholistic education she received at Avila College had inspired her successful career. She revealed that her study, leading to a career in the public health area, has led not only to exciting overseas travel opportunities, but also to the satisfaction of making a difference by choosing to work in refugee health. Amelia noted that it was opportunities for involvement in social justice activities, as well as the public speaking and debating programs at Avila, that had supported development of her public activism in the human rights arena.
Amelia's inspirational address provided authentic evidence to current students of how the Avila experience can lead to future success.
One particular result at Avila of which we are very proud was the fact that 22 students were awarded the relatively new VCE Baccalaureate. The Victorian Curriculum and Assessment Authority (VCAA) introduced the VCE Baccalaureate to acknowledge, encourage and reward students who deliberately embrace a broad but more challenging VCE program.